Ukiyo-e prints are the results of teams of "an artist", "a woodcarver" and "a printer".
Printing with woodblocks is among the great charms of Ukiyo-e.
In this museum we offer you Ukiyo-e woodblock printing experience courses. By taking woodblocks in your hands and printing with them, you could learn more in-depth about Ukiyo-e and find the real charms of Ukiyo-e.
Ukiyo-e Woodblock Printing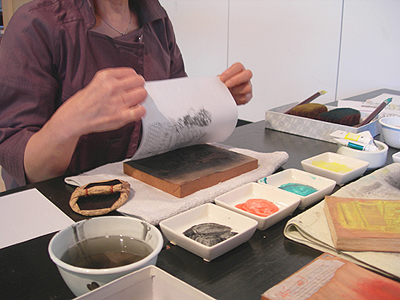 In these courses you are going to try printing with 3 or 4 colors on high-quality handmade Japanese paper with the museum's original carved woodblock (postcard size). Even as a beginner your print differs from others according to how you paint and how you rub and press the paper with the disk called "baren". Get to know the importance of "printing" in Ukiyo-e production.
You can take the print with you.
Courses
Beginner Course
Contents

3-color printing for the first timer.
Use the picture of "Kagekiyo and Benkei", one of the most popular scenes in Kabuki plays. Kabuki actors' red "kumadori" makeup is supporsed to show the magic power against evil. Try to express the strong power of eyes by paiting red kumadori makeup.




Fee
600 yen
Duration
10 minutes per person
Intermediate Course
Contents

4 color printing on the woodblock with only lines.
Use the picture of Hozen-ji street and a pretty young down-town girl. Try to carefully paint the fine stone pavement and Japanese clothes.

Fee
1,000 yen
Duration
10-15 minutes per person
Advanced Course
Contents

4 color printing requiring challenging techniques.
Use the picture of Hozen-ji stone pavement and the Kabuki maneki neko(a cat) which is on the outside wall of this museum. Try to make the picture three-dimentional by gradiating the pavement and painting the cat twice.

Fee
1,200 yen
Duration
15 to 20 minutes per person
Bookings must be made 3 days prior to the course. (Arrival priority)
There is also a 700 yen admission fee to enter the museum.
Please make a reservation for 2 or more people.
---
Request and Inquiry