Exclusive premiere exhibition of Osaka prints from Edo era
A time during which Chikamatsu and Saikaku were the undisputed masters, And the Dotonbori district had an atmosphere not unlike Broadway today.
In 1730, the rice Market established by the government, makes Osaka the rice loft of Japan. As early as 1662, The Dotonbori district with its 6 Kabuki theaters, 5 Joruri puppet theaters, 7 Sekkyo puppet halls and one mechanical puppet theater was a cultural center as well as a commercial center where merchandise flourished.
The delicacy of Ukiyoe prints was inspired by the Kabuki actors they depict.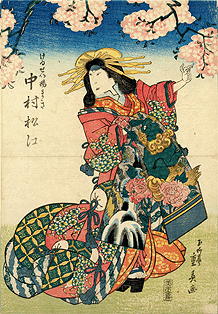 Originally, prints represented (all male) Kabuki actors that were much appreciated by a predominantly female audience. Although in Kabuki worn by men only, the kimono were very much admired by the audience.
As much as 80% of the prints depicted actors, somewhat comparable to todayユs movie and fashion magazines .
Edo (todayユs Tokyo) was the cradle of Ukiyoe prints, nevertheless, Kamigata (todayユs Osaka) was also a very industrious and creative area. Where Edo represented style and elegance, Kamigata stood for delicacy and sense of humor, sometimes almost caricatured, showing a desire to render the actor's personality. The patterns of the kimono also testify of that refinement .
The beginning of this new century offers us an opportunity to reconsider this art which is still surprisingly contemporary and realistic.
Vincent Van Gogh was a connoisseur and an admirer of Japanese prints and owned a collection of some 400 pieces including some from Kamigata.
The British Museum also has a small collection of Ukiyoe prints.
The technique : xylography on wooden boards cut with the grain.
The making of prints required many craftsmen such as the drawer, the wooden board maker (they had to be cut with the grain), the wood engraver and the printer. Some parts such as hair sometimes required another specialised craftsman.
Kamigata craftsmen, accustomed to brushwork and monochrome prints using ink and one single wood block, took to this new but more complex technique slowly.
This new printing technique, in Kamigata also known as Nishikie, using a wide range of colors, required a board for each color, sometimes engraved on both sides to save on materials.
---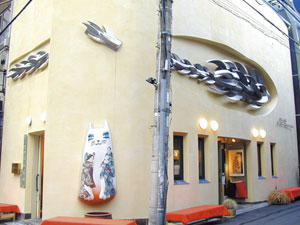 The third floor and the flat roof are dedicated to rice growing. The roof has been converted into a wild rice field.
Rice history is longer than 10000 years and it is the staple food of numerous Asian coutries, including Japan.
Osaka was also the first place where a rice Market was established.
---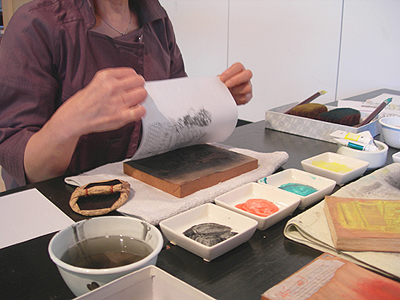 An activity experience for making 4-color, woodblock, Ukiyoe prints.
Making Ukiyoe prints using 4 colors of woodblocks.
The completed Ukiyoe will be about postcard size.
Take it home with you.
Please choose from one of the three courses
Beginner's course
Fee
600 yen per person
Estimated Time Required
About 10 minutes
Intermediate course
Fee
1,000 yen per person
Estimated Time Required
About 10 – 15 minutes
Advanced course
Fee
1,200 yen per person
Estimated Time Required
About 15 – 20 minutes
---
Kamigata Ukiyoe Museum
Access
5 minute walk from NAMBA subway stations.
In front of the west gate of HOZENJI temple.
Open
Tuesday to Sunday from 11AM to 6PM
Admission
700 yens
Address
1-6-4,Namba,chuo-ku,Osaka